The Ohio Department of Health recently provided a grant called Creating Healthy Communities, which aims to promote healthy eating, active living, and a tobacco-free lifestyle in order to reduce chronic disease among Ohioans. The CHC grant is meant to create changes to policies, systems, and environments to improve the quality of life for people in priority communities around the state. In Richland County, these priority areas are Shelby, Downtown Mansfield, and the North End of Mansfield.
The Richland Public Health Department was a recipient of the Creating Healthy Communities grant, and recently decided to provide one business or organization in Downtown Mansfield with a lactation room. "A lactation room and the accompanying lactation support guidelines/policy falls into the 'healthy eating' category of the grant," explained Victoria O'Brien of Richland Public Health. "CHC is currently working on establishing a similar program in Shelby, and several years ago completed one at Richland Academy of the Arts in Mansfield."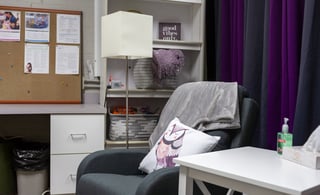 Richland Public Health has chosen Idea+Works for the unique opportunity providing a fully furnished lactation room. The former server room has been transformed into a quiet, comfortable area for mothers to feed their children or pump milk whenever needed. The Idea+Works lactation room contains a comfortable chair, cleaning & sanitizing products, a dedicated refrigerator, activities for small children, educational pamphlets, and information on local breastfeeding resources. It is now operational and available for Idea+Works members and guests to utilize.
The benefits of breastfeeding have been well documented for many years. Breastmilk is packed with nutrients that infants need to develop a healthy immune system, and breastfeeding or expressing milk also lowers the risk of high blood pressure, type II diabetes, ovarian cancer, and breast cancer in mothers. Lactation not only helps the child grow up healthy & strong, but also helps the mother stay healthy & strong, as well. In addition to providing a clean, private area for mothers to pump milk and/or breastfeed,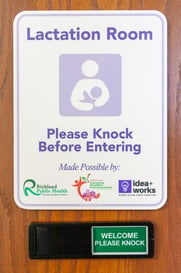 lactation rooms also provide a quiet place to soothe children, allow the safe storage of milk to be taken home, and enable new mothers to keep their milk supply up by being able to express when needed.
Under the Fair Labor Standards Act, any nonexempt (hourly) employee is entitled to reasonablebreak time to breastfeed or pump milk in a private area other than a restroom, and new mothers are protected by the law for 12 months after the birth of a child. While there are no state or federal laws mandating a lactation room in Ohio, more and more places are finding the benefit of providing a specialized room for their employees, members, and guests.
Visit Idea+Works Today!