Emily Allen-Smith, Idea+Works member and founder of The Odd Sprout Farm, won the 2nd place prize of $2,500 for her innovative idea of expanding her farm-to-table dinner series she launched in 2018. The Richland Idea Audition is an annual event hosted by the Mansfield/Richland County Area Chamber of Commerce and sponsored by the Richland County Foundation. During the Richland Idea Audition, entrepreneurs first present their business ideas to a panel of judges, with a pool of six finalists being chosen. Those six entrepreneurs then have the chance to pitch their ideas to a live audience, with the top three winning cash prizes to fund their business ventures.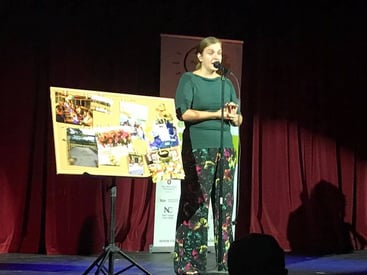 Farm-to-table (or farm-to-fork) promotes serving locally farmed & sourced foods. The goal of the farm-to-table movement is to support local agricultural economies and food traceability. With a local approach to sourcing ingredients, people know not only what they're eating, but where it came from and who produced it. Local producers may include places such as wineries, breweries, ranches, or fisheries, as well as traditional farms and small microfarms. The farm-to-table movement isn't very well-known in North Central Ohio yet, but Emily is making the concept recognized in the area. She and her husband recently build a pavilion to host farm-to-table events, and are continuing to add to the structure as the business grows.
Emily began her farm-to-table idea with a five year plan, and was able to accomplish her goals within months thanks to the support and mentorship of fellow entrepreneurs at Idea+Works via the Mastermind program. Emily sells her produce at local farmers markets, in addition to running The Odd Sprout Farm and sourcing local restaurants such as Doc's Deli. She is an active member of Idea+Works and often brings in $10 bags of fresh, organic produce for fellow Idea+Works members to purchase. For more information on Emily, farm-to-table, and The Odd Sprout Farm, visit facebook.com/theoddsproutfarm.
Come see Idea+Works for yourself!