The main thing that makes Idea + Works such a cool place isn't a "thing" at all. It's the entrepreneurs who are our members. When people are curious about this place they need look no further than our membership. Here are some post from our Member Spotlight series that give you a chance to meet the entrepreneur him or herself:

Ben Thompson is the founder of NoRights Productions. A freelance cartoonist and animator inspired by the cartoons of days gone by, he enjoys Idea+Works for it being cost-effective and a place to work away from home to avoid distractions.
Working with both digital and traditional media, his unique and fantastic skills have led to the creation of a multitude of things, and he is always on the lookout for new freelance gigs to take on. Comic books, webcomics, podcasts, and animations are just some of the awesome things Ben can do.

David Yoder and his wife Alex are the founders of Baden + Grain. A second generation woodworker, David utilizes his skills to combine natural beauty with modern style. Within eight months of its founding, there were 40 orders in place for a Baden+Grain table, and the business continues to grow at a rapid pace. While the company currently specializes in tabletops, more products are slated to be added later this year, such as wooden teethers and toys inspired by the couple's daughter, Mia.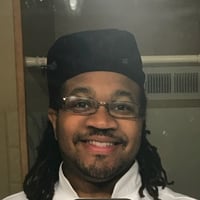 Torence Anderson began cooking at only seven years old, and with the encouragement of his parents, kept his love of the culinary arts alive through adulthood. Now, he brings everything from upscale dining experiences to comfort food to the people of Mansfield and the surrounding area.
Transformation Network is a nonprofit workforce development organization focused on improving lives, strengthening businesses, and building communities. Headquartered in Ashland, with an office at Idea +Works, there are also offices in Clyde, Ohio and Clarksville, Indiana.
Dr. Elizabeth Castle is the Founder and Executive Director of the Warrior Women Oral History Project. She received her B.A in Race and Gender in Electronic Media from George Washington University in 1995, her Masters in Philosophy in History from Cambridge University in 1997, and her Ph.D. in History from Cambridge University in 2000.
With a background in manufacturing and an interest in CNC, Dan Cannon developed a passion for 3D printing. As a newly created startup, Dan is still laying the foundation of his business and exploring opportunities. Eventually, as technology continues to flourish, he would like to create affordable, easily recycled manufacturing parts to help breathe life back into The Rust Belt.
Walter Bonham's mission is to build, grow, and feed. To build accessible urban farming structures as well as the community, to grow nutritious, fresh produce for the community to enjoy, and to feed the community not only physically, but with education, as well. Walt uses the Entrepreneur's Kitchen portion of Idea+Works, located in the lower level of 13 Park Avenue West in Mansfield, for the "feed" aspect.
Evan Ryan, founder of Abundat, saw a problem in how the world works and decided to do something about it. He noticed that many companies have small tasks which could easily be streamlined using the power of technology. Using artificial intelligence (AI) for different day-to-day tasks, a company could lower their overhead costs, which in turn would lower the cost for goods & services provided.
Justin Bigelow is an independent agent with Realty Ohio and a military relocation specialist. He is a Navy veteran and delved into the world of real estate about two and a half years ago. While still in the Navy, he thought about what to pursue once he returned to civilian life, and received inspiration from watching real estate shows in his downtime.
Kristy Hatfield was a stay-at-home mom with three young children, all under the age of four. She founded The Clean Company from her home as a secondary income for the family, but within six months, the business grew so rapidly that her husband joined the business, as well. The Clean Company now performs commercial cleaning in Richland, Ashland, Crawford, Knox, Marion, and Morrow counties.