A school nurse by day, Jen Maxwell brings comfort to sick and injured children. A cookie artist by
evening, she brings joy with her delicious treats. As the mom of four, Jen has spent many years baking cookies for her children's extracurricular activities. Events such as sporting activities and theater were provided with stunningly decorated cookies, and both parents and children alike would indulge. The sugar cookies that Jen prepares are intricately shaped and decorated for each specific occasion, encapsulating whatever mood the situation calls for. From well-loved cartoon characters, to realistic animals, to even NASA astronauts, there seems to be nothing that Jen cannot create with her amazing artistic talents.
In addition to the cookies appearing at her children's activities, Jen's delectable treats would also
appear at pop-ups and school functions. As time went on, the cookies began to garner a following; people began inquiring about placing both personal and business orders for everything from nonprofit fundraisers to birthday parties. At the urging of her daughter, she created the Big Sugar Sweets Facebook page about two years ago, followed by the Big Sugar Sweets Instagram. Being a home-based business, Big Sugar Sweets isn't licensed to ship orders, so most of the clientele are local. As the newest member of Entrepreneur's Kitchen, however, that may change sometime down the road.
Jen first discovered the Entrepreneur's Kitchen after Warscha Nagpal's Indian cuisine cooking class. "I saw that on Richland Source and thought, 'oh that could be a venue I could use for decorating,'" Jen explained. "After that is when I got in touch with (Idea+Works), and I just joined on December 1st." Regarding the Idea+Works/Entrepreneur's Kitchen members, Jen stated, "They've been so supportive and super helpful, so it's been really good!" Between her job as a nurse, preparing for the holidays, and making her cookies, Jen hasn't had the chance to enjoy the benefits of Idea+Works membership such as Mastermind and Podcaster Meetups, but would like to explore them in the future. She is also looking forward to the new Entrepreneur's Kitchen & Marketplace opening in the Caldwell & Bloor building next year.
On December 14th, Jen taught a cookie decorating class at the Entrepreneur's Kitchen. About 10 people attended the class, where they learned techniques for piping, frosting, and decorating cookies just in time for the holiday season. It was a great success with positive feedback, with many people requesting to join another cookie decorating class soon. Jen is currently planning to teach another class sometime after the holidays.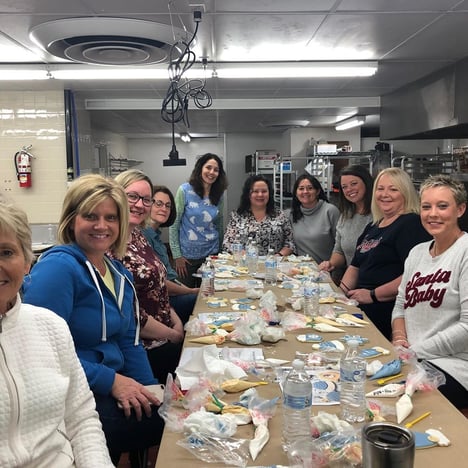 Quotes for cookie orders can be obtained by contacting Jen via the Big Sugar Sweets Facebook or Instagram, or at phone number (419) 989-3873. The official Big Sugar Sweets website will be launched soon, and more cookie decorating classes are to come, so keep your eyes open for big things happening for Big Sugar Sweets!
Learn more about the Entrepreneur's Kitchen!