Many VIPs, both past and present, credit Mastermind groups as contributing to their success. Whether personal, political, literary, or in the business world, Mastermind has been proven again and again to be a cornerstone for success. Our earlier post listed some of the many benefits of participating in Mastermind, and it being included as part of Idea+Works membership is just one of the ways Idea+Works invests in you.
Dave Kerpen
Dave Kerpen, Chairman of Likeable Media and longtime serial entrepreneur, said, "CEO peer groups such as Entrepreneurs Organization have been transformative for me, not only making me a better CEO and entrepreneur, but making me a better husband, father and human being. I am deeply grateful to have found them and always extremely encouraging to other entrepreneurs to join them!" Dave is also the New York Times best-selling author of such works as The Art of People and Likeable Business.

J.R.R. Tolkien
J.R.R. Tolkien, one of the most famous and influential writers of our time, was a member of a group called The Inklings. It was an informal literary group that lasted for nearly 20 years. Tolkien's contemporaries, such as C.S. Lewis and Charles Williams, were also members, and it was based in Oxford, England. The group met weekly to discuss their latest works, hold one another accountable to finish current projects, and offer constructive criticism. Some of the most memorable stories within the last century have been born from The Inklings, such as The Lord of The Rings, The Hobbit, and The Chronicles of Narnia.
Henry Ford
Henry Ford's think-tank group, coined The Four Vagabonds, included Thomas Edison, Harvey Firestone, and John Burroughs. They traveled together and enjoyed yearly camping trips to discuss current world events, business ventures, brainstorm ideas, and issues affecting their businesses. All four men were on the cutting edge of technology for their time, and worked in tandem with one another to help each other grow.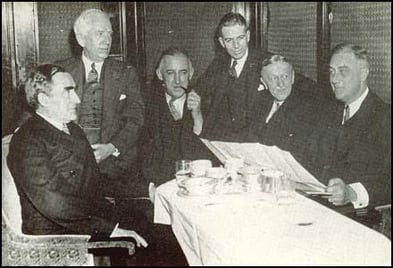 Franklin D. Roosevelt
Franklin D. Roosevelt, the 32nd President of the United States, had a group he called Brain Trust. His Mastermind group included Columbia University professors Raymond Moley, Reford G. Tugwell, and Adolph A. Berle, Jr., among others. He is often recognized as one of the three greatest Presidents among scholars due to his leadership during the Great Depression and the beginning of World War II. He considered his group Brain Trust to be his closest and most trusted advisors during this very troublesome time in American history, and integral to his success in leading America.

Warren Buffett
Warren Buffett is a famous business magnate, investor, speaker and philanthropist who serves as the chairman and CEO of Berkshire Hathaway. His group was named in honor of his late mentor, Ben Graham, and is called The Graham Group. It began in 1968 with investors & stock pickers, and in 1991, Buffett expanded it to include businesspeople he felt would mutually benefit from the group. When asked once what the key to his success was, Buffet replied, "You will move in the direction of the people that you associate with, so it's important to associate with people that are better than yourself. You want to associate with people who are the kind of person you'd like to be."
Idea+Works invests in you, so you can invest in the future!